1955 John Deere 40 Utility
Owned by J. Lucas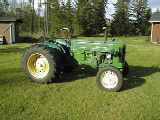 Mr. J. Lucas has been kind enough to share pictures of his non-restored 40 Utility (Serial # 63700, Block # 104334). He is very proud of this tractor and its condition (rightly so, in my opinion), and uses it regularly.
He is also looking for a couple of parts. He writes, "As you'll notice I've put 12 volt square halogen lights on it and converted it to run on 12 volts. The front cross tube is bent and at one time someone had welded steel plates to the steering arms and ruined the temper of the splines on top of the steering knuckles. . .any idea where I can find these steering knuckle/spindle JD p/n AM 2163T? The rest of the parts for the front end I have found and would be more than happy to share sources with you."
Please contact Mr. Lucas if you can help him out in any way, or if you know where he might be able to get these parts, particularly if you live anywhere near the western Washington state area. In the meantime, thanks again, J., for sharing these pictures! (Click on any picture for the full-size image.)
Jan. 31, 2000 - Spindle update: I finally found a set of spindles for the front end. One of the first places I contacted found a set and they are in perfect condition. $100.00 each and the parts guy e-mailed me. Its been two years since the last time I talked to him, I guess for that kind of customer service the price was just right.
They do have quite a few JD40 parts. Wengers Of Myerstown www.wengers.com 1-800-451-5240. Pretty nice guys to talk with too.
---